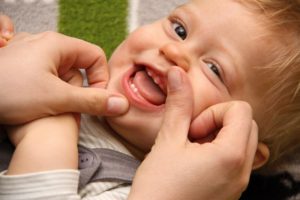 When you have a new baby, you experience many firsts, especially in year one. First smile, first tooth, first time sitting up and crawling, and perhaps even their word or first steps. There's one new experience you shouldn't forget about during this exciting phase of your child's life—their first dental appointment. Here's some valuable information about this initial visit with a board-certified pediatric dentist and why it's vital for your baby.
When the First Dental Appointment Should Happen
Believe it or not, the American Dental Association highly recommends bringing your child to a pediatric dentist by the time they turn one year old. By this point, they should have a handful of teeth, and this professional can give you advice for caring for your baby's evolving smile. Note that seeing a board-certified pediatric dentist is crucial because they have proven their expertise and training in dental issues unique to infants, children, and teens.
If your child is older than a year and still has not seen a dentist, don't beat yourself up. You can take them in for checkups every six months starting now!
How the First Visit Will Go
With young patients, the main goal is to get them comfortable with the dental environment. As a result, your pediatric dentist will get to know your little one, gently examine whatever teeth they have, and talk to you their at-home dental care. For instance, they may encourage you to brush their teeth twice every day and avoid leaving a bottle of milk or formula in the crib with them. Then, your child's dentist can then review the next steps in your child's oral development and answer any questions you may have about their smile.
After this first visit, you should continue to bring your child in for regular checkups, where cleanings will eventually be added as your child grows, becomes accustomed to the dentist and office environment, and is able to sit still for a longer period of time.
Why It's Important to Start Early
You may be wondering why these dental visits need to begin this early on in your child's life. Even though your child may not have a full set of teeth yet, they can still struggle with tooth decay. In fact, as soon as they erupt, these baby teeth are susceptible and sensitive to cavities. Coming to a pediatric dentist on a regular basis gives them a chance to spot cavities before they cause your baby pain.
Plus, consistently visiting the dentist starts a healthy routine in your baby's life that needs to carry into adulthood. They need to learn early on that the dentist is not someone who should be feared but trusted.
Ultimately, at some point, your baby needs to have their first dental appointment, and it should be while they are having many other first experiences. They may not remember that initial visit, but they will learn over time that these appointments are important for their oral and overall health for their whole lives!
About the Practice
At Arlington Heights Orthodontics & Pediatric Dentistry, we have the privilege of having two board-certified pediatric dentists on our staff. Dr. Welke and Dr. Davenport have undergone years of advanced training specifically for young patients and will make your baby's first appointment, and all subsequent appointments, as pleasant and rewarding as possible. If you need to schedule a visit for your child, you may contact the office at 847-255-3020 or request an appointment here.