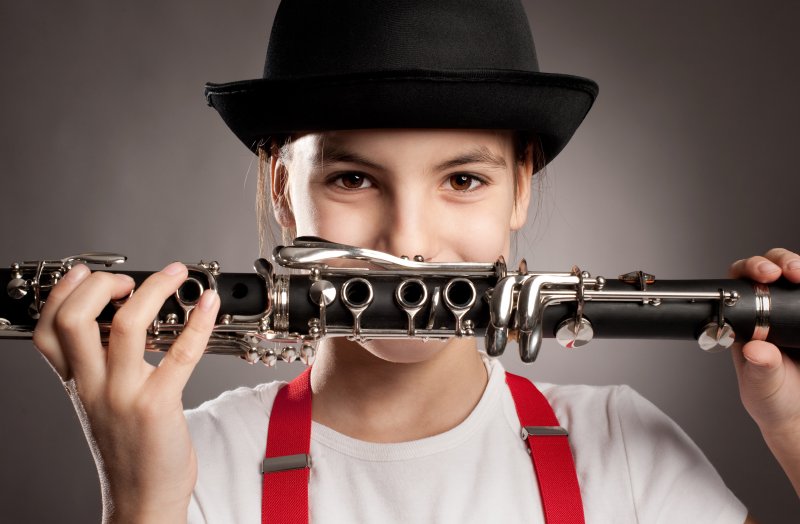 Is your child a member of their school band? Do they play the flute, clarinet, trumpet, trombone, tuba, or another wind instrument? The sounds that come from them are beautiful, and it can be a proud moment for any parent to see their child thrive in such a way. But if you've recently learned that they need braces to straighten their crooked teeth, you both may wonder if it will hinder their status in the band. While braces will certainly require some adjustment, an orthodontist is here to help.
Braces & Wind Instruments: Will It Work?
Yes! It is possible to continue playing a wind instrument while wearing braces. Many assume that those requiring the use of the mouth will be difficult to maneuver or impossible to play. The truth, however, is that your child can still enjoy making music, but they will need to spend some time adjusting to the newness inside their mouth.
Your child's lips, tongue, and teeth will need to become accustomed to the metal brackets and wires, but it doesn't have to be an overwhelming feat.
How To Make Playing Easier While Wearing Braces?
To make the process of playing their favorite instrument easier, there are a few helpful tips that they follow that will make the adjustment more feasible over time. They will need some patience, but it's possible that they will still make beautiful music in the process.
Remember these tips:
Encourage your child to practice – Encourage your child to keep practicing, but make sure they take more frequent breaks to allow their mouth to rest.
Use dental wax – The reason this one is important is that when your child begins to wear braces, they will notice that the brackets press against their lips. This can irritate the soft oral tissues, resulting in increased discomfort. Placing wax over the brackets creates a buffer than makes for a more pleasant experience.
Inform your child's band teacher – Be sure to let your child's band director know they are getting braces and will need time to get used to playing with them.
Consider clear aligners – If your child is concerned about playing an instrument with braces, there is always the option of considering an alternative orthodontic solution – clear aligners. These are more flexible and allow your child to remove the trays before playing.
Don't let your child put away their musical ability just because they must wear braces. Apply these tips so that they can keep making beautiful music and give their smile the best chance to succeed.
About the Practice
Arlington Heights Orthodontics & Pediatric Dentistry has been helping patients for more than 50 years! Led by Dr. Jeffrey Kemp and Dr. Christopher Hall, they provide safe and effective orthodontic solutions to patients of all ages. When an individual needs help to adjust to their new braces, our team can provide tips, tricks, and techniques to ensure life continues as normal. Visit our website or call (847) 255-3020 to find out how we can help you or your child achieve a straighter smile.